Impact
The Goat Project Uganda causes incredible changes for women in Uganda, and their communities. First, in many cases, the goats are the first things the women have had that actually belong to them, which gives them a great boost of self-esteem and pride. This also increases their impact and bargaining power in their communities, especially with men. Second, the beneficiaries form women's discussion groups after they receive their goats, resulting in a welcoming community for them to be able to ask for help and advice, which they may not have had before. The goats help the women of the community connect and grow stronger as a group, giving them a place to form relationships based not only on the goats, but also on other challenges they face. However, the most gratifying impact the goats can make are the material and economic boosts the women receive. From the proceeds from selling their goats, once-impoverished women have been able to:
Purchase a tin roof for their home

Build larger homes for them and their children, instead of staying in a cramped grass hut

Acquire land to grow food for their families

Pay for their children's education, therefore preventing future systemic poverty

Acquire land for alternate businesses such as gravel or farming

Buy cows for milk, either to drink or sell (therefore again providing a source of regular income)

Continue breeding their goats and become "big" goat farmers (providing a source of regular income)

Use goat droppings to enrich the soil and grow better crops
As at July, 2019, we have more than 721 beneficiaries at 51 centers!

56 women have so far been released from the project after attaining to at least five goats, and more are soon to be released. The Goat Project Uganda, as a grassroots economic empowerment scheme, has proven to be very viable, and at a much smaller cost of operation compared to other projects of the same mindset. The project is receiving very uplifting results from the beneficiaries and has even garnered attention from government officials for its simple yet effective results.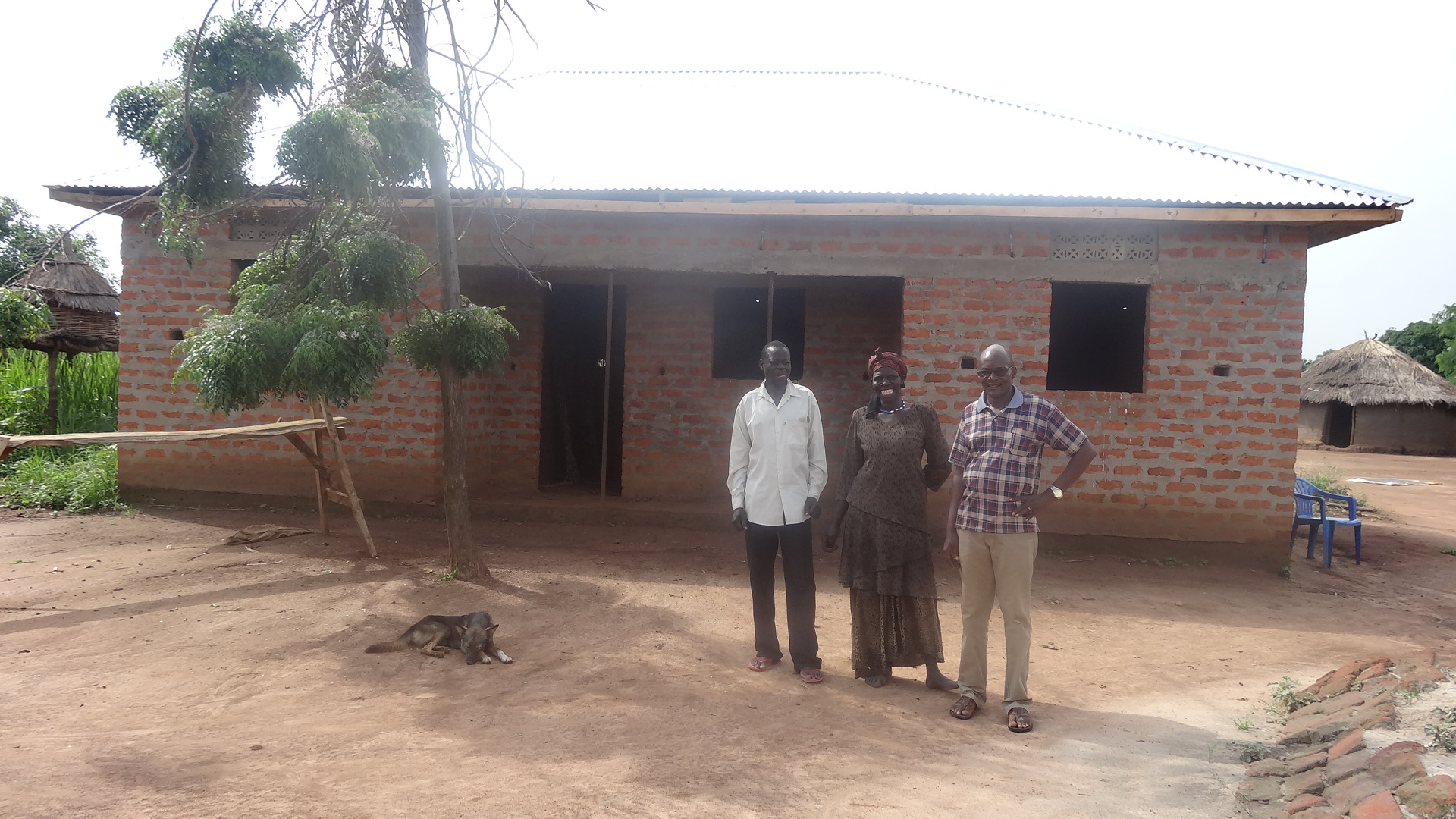 This house is being built by a beneficiary. She is using proceeds from her goats to fund construction. At the time of graduation in 2017, she had 10 goats. She kept growing her herd till she had 27 goats. She sold some of the goats and purchased iron sheets for the roof. Hers is among the very few permanent houses in the village. She continues to rear the remaining goats (she had 9 females in July 2019) and will keep using proceeds to complete her house and also educate her son who just joined university!!
Additional livestock: It is a dream of most women to own a cow. A cow will provide milk for her family, and its offspring fetch the equivalent of a year's wages. This women sold a few of her goats to buy a cow. (The community keeps its cows together for safety.) The cow is now pregnant and she still has 5 goats. She plans to keep several goats always, in order to fund her children's education. The gift of a single goat has enabled her to dramatically change the future for her family.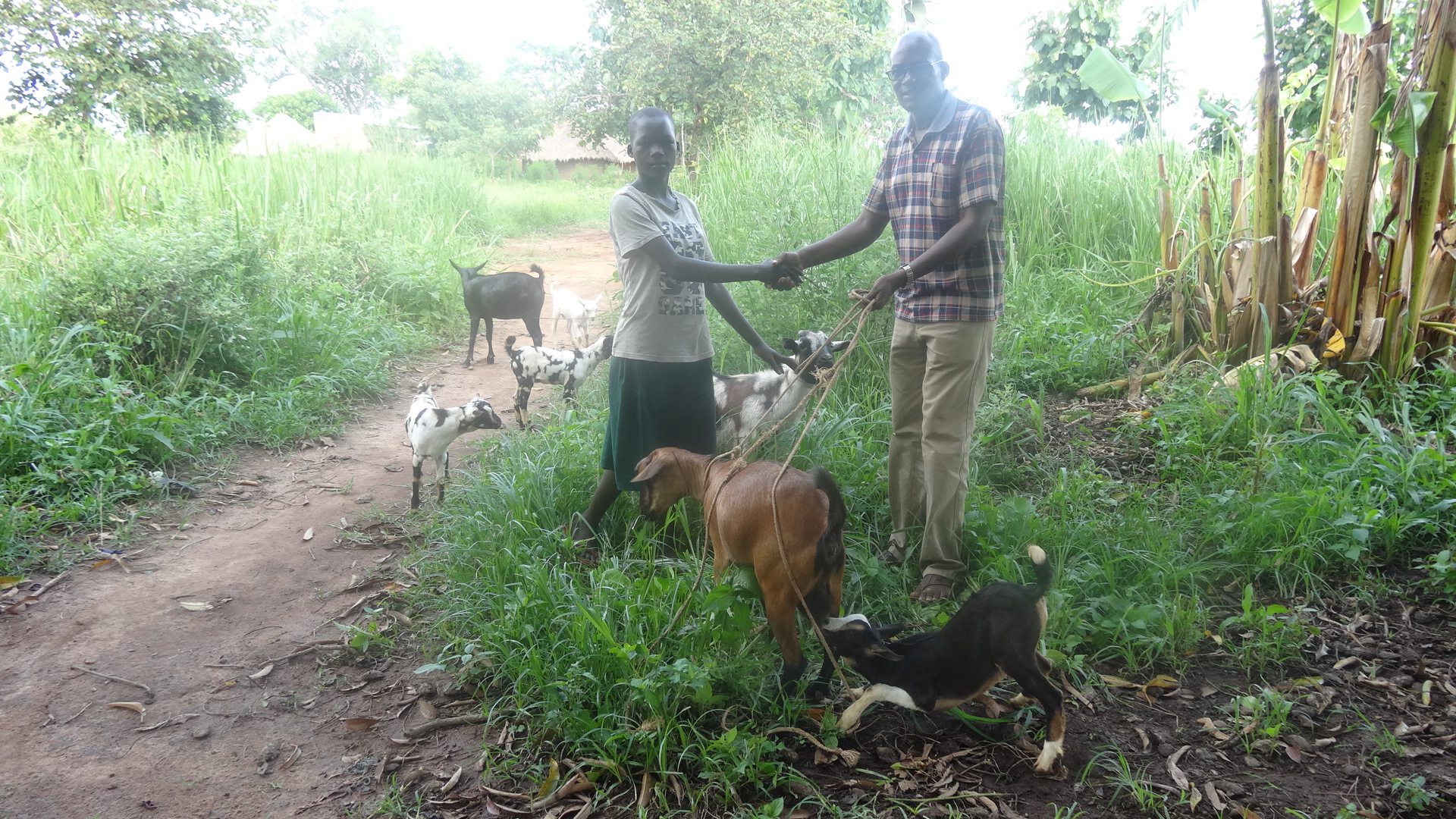 Total orphan now has 6 goats of her own (June 2019)
She is only 15 and a total orphan in Puranga Pader district. She was graduated from the project in June 2019 with 6 goats. Now, she and her 2 siblings have means of paying for school.
She was abducted by the Lord's Resistance army at 13, and though rescued, she lost her right leg to a bullet. Tragedy struck again when her husband was killed and left her with 5 young children. The Project went to her rescue and in June 2019, she was graduated with 8 goats in total. She immediately sold 2 and paid school dues for her children. Her plan is to soon buy a cow from the proceeds of her goats.